Congratulations!
Congratulations to Samantha Granstrom, the Grand Prize Winner of our CWL Back-to-School Giveaway!
And congratulations to our 10 runners-up, who each received one of the items from the giveaway.
Kelly Gridley
Sarah Sonnamaker
Molly Malloy Trahan
Rachael Lockhart
Elissa Velez
Valerie Bloom
Denise Champion
Tara Neidich
Ashley Mains
Alicia Barr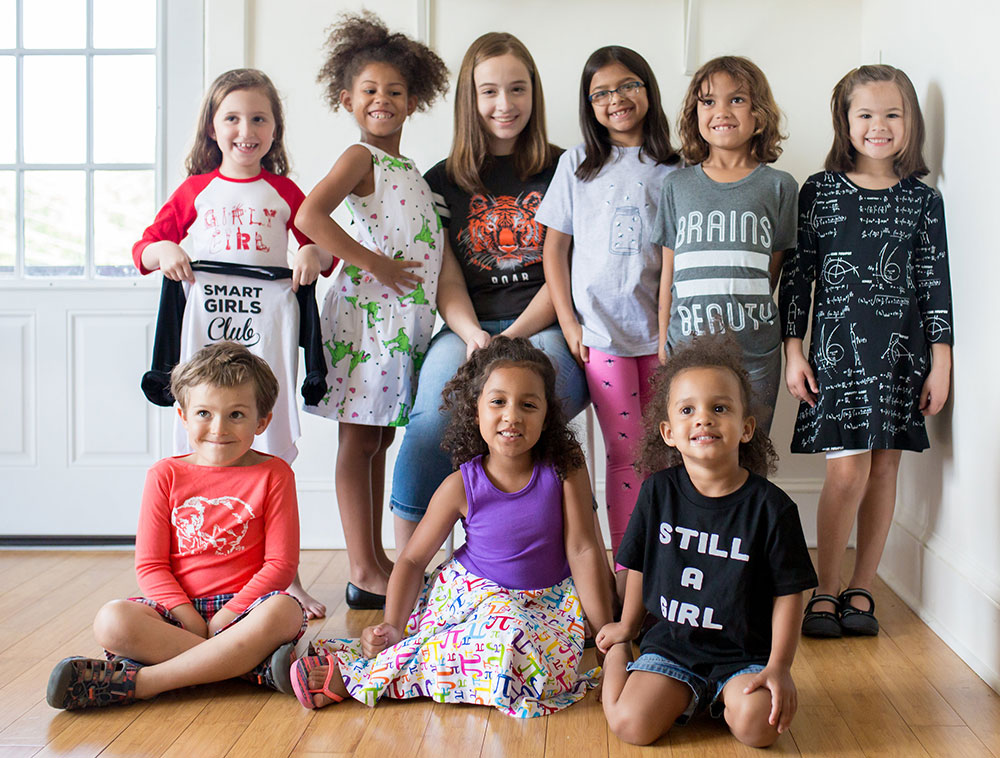 "Girly Girl" raglan t-shirt from Handsome in Pink
Introducing the new "Girly Girl"! She is strong, smart, creative, adventurous — and in red! We hope babies, girls, and women everywhere will join us in reclaiming the expression "Girly Girl" and be part of the Girly Girl Revolution!
"Must Love Dinosaurs" Dress with Spikes from Mitz Accessories
The dress features black felt spikes that go down the back of the dress! RAWR! The spikes comfortably fold over when applied with pressure and are made from 100% post-consumer recycled plastic bottles.
"ROAR" by Girls Will Be
Fierce girls need fierce shirts. Let them hear you ROAR!
Because why should cute, sparkly kittens be the only cats in the girls department? Our designs break the mold! Unique football-jersey inspired tee has a slightly roomier fit, without being too boxy. Tagless and super soft. Sizes 4 through 14. Screen printed with care in Austin, TX.
"Firefly" Glow in the Dark T-Shirt by buddingSTEM
What's all the buzz? These fireflies are awesome by day - and glow in the dark at night! Screened on 100% combed ringspun cotton. Unisex cut. Imported shirt, silk screened in Seattle, WA. Available in sizes 2T-Youth Small (6-8) Offered in Aqua, Raspberry, and Gray
"Firefly" Glow in the Dark Leggings by buddingSTEM
What's all the buzz? These fireflies are awesome by day - and glow in the dark at night! 95% cotton, 5% spandex. High quality, durable fabric and expertly crafted. Manufactured in the USA. Available in sizes 18M-6/7 Offered in Raspberry and Gray
"Brains = Beauty" by Clever Belle
We know girls offer the world far more than just their appearance and we want them to shine! Tell the world what beauty means to you in this Brains = Beauty tee.
"Rocket Science" Dress by Svaha
This 1960's-style dress was inspired by the chalkboard scribbles of Katherine Johnson, the fabulous African-American mathematician featured in Hidden Figures. This dress contains the secrets of gravity losses, simulates rocket propulsion, and is right up the alley of any stargazer. *Black, 3/4 length sleeve dress with pockets *Made from 100% organic cotton *Available in sizes 2T - 12 years
"Smart Girls Club" by Free To Be Kids
Smart is cool, girls! Your worth is based on so much more than your looks. Smart Girls Club is available on tees, onesies, and rompers in several different color options, from baby sizes to Adult 2XL.
Free To Be Kids battles negativity and gender clichés in mainstream kidswear with positive messages, clothes that flip the script on gender clichés, and stylish, on-trend design - for girls and boys.
"Bear In Mind" by Baby Blastoff!
For the adventurous, mud tramping, forest exploring girl in your life! This soft-as-can-be tee with bear print front and boot track back was lovingly made in the USA using premium Oeko-Tex certified bamboo fabric. Sizes 2t, 3t and 4t. Boat neck for easy on and off. Printed with water based inks. Inside tag with kid-empowering message to find and share!
"Pi in the Sky" Pi Play Dress by Princess Awesome
"Pi in the Sky" Twirly Play Dress 3.1415926... Your brilliant young mathematician can now sport her favorite irrational number on this brilliantly ­colored play dress with deep pockets and a big full twirly skirt. 100% cotton. *Sleeveless, knee-length play dress *¾ twirly skirt with pockets *100% cotton *Sizes 2T through 12 *Made with pride in Chicago, Illinois